Dear Reader,
As difficult as it is going to be for me, for the next 5 days I will not be reporting for the following duties:
Food shopping – alternatively known as gathering (of both food and bemused looks from fellow shoppers who no doubt think we look like a travelling circus.

 

 

 

 

 

 

 

 

 
Driving, transporting or taxiing both by vehicle and by use of body, sling or neck.
Cooking – mainly food that doesn't get eaten or ends up on the floor, wall and on one occasion on the ceiling (curse those bunk beds)
Maybe I should get some ideas for presentation from Pintrest…surely that will make them eat it? Put on to-do list.
Cleaning – this really is a deceptive term. By cleaning I mean meeting very, very basic Occupational Health and Safety Standards such as cleaning up glass bottles that get flung from the fridge by a one-year old wanna-be shot-putter. Also removing melted chocolate from taps (thanks Easter Bunny) that are now also covered in ants. At least the kids attempted to wash their hands (we are moving on from cleaning our fingers by just licking them).
Laundry – for regular readers, you know this is the bane of my existence. I am not even going to spend another second thinking about this task, otherwise I start itching.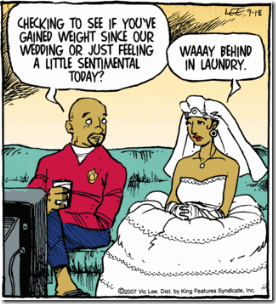 Nappy changing. This has become so much harder now the babes can pull off his nappy and given his bendy little bones, can twist and turn like a willy-willy when I am trying to well, wipe his…enough said, huh?
Dishwasher unloading and loading. But oh, I do love you dishwasher, any times I have been without you have been so unpleasant.
Allowing my belly to be used as playdough (or a trampoline) – do you know, I am now calledMumma Squish by a three year old? Guess it's progress from being Mummy Pig.
Unblocking toilets because little teddy is toilet training and fell into the toilet and got stuck (he will be thrown into the bin under the cover of darkness)
Talking of bins…putting out rubbish, picking up rubbish, stopping babies from eating bits of rubbish.
Work of the paid variety – sorry box of psychological assessments, enjoy the dark safety of a locked cupboard while I am away.
I am off on a child-free holiday!



Please reload